---

Patent Pending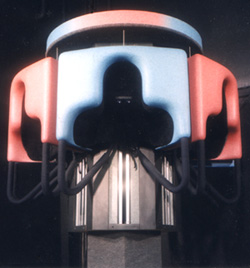 "Just Like Being There"
Sensographic Systems, LLC., is committed to bringing sensory technology and related advancements to the public. The goal is to make it easy and comfortable for viewing quality 3D entertainment in public locations. The Fascination Station is an unobstructive, one size fits all, practical solution to the public's lack of awareness concerning the enormous benefits of true stereoscopic 3D technology. The benefits of true stereoscopic 3D are now attainable in public venues as a result of the Fascination StationTM.
As an advocate for the promotion of stereoscopic imaging, Sensographic Systems will provide a cornucopia of "sensographic" benefits for humankind. The Fascination Station is a futuristic, sensational development that is a delight to the senses. Its simple operation and rugged construction makes it appropriate for all age groups and most public settings.
Sensographic Systems believes the greatest benefits for humankind from true stereoscopic 3D media will be available when the Fascination Station becomes a standard tool in museums, libraries, schools, welcome centers, or any place where edu-tainment opportunities exist.
The Fascination Station can also be utilized commercially in public venues including: airports, malls, expos, trade shows, grand openings, and special events.
The Fascination Station has been designed and constructed using state of the art components already on the market and available to the public. However, prior to this time, the industry has failed to put enough emphasis on aesthetic, ergonomic, and practical design so as to make true stereoscopic 3D viewing easy, convenient and practical for public places.
Sensographic systems has thoroughly addressed this need with the introduction of the Fascination Station. By bringing this breakthrough in design to the public Sensographic Systems will not only bring stereoscopic imaging out of the "lab" setting and into general public use, but will also facilitate growth and opportunity throughout the entire "sensographic" industry.
---
For more information about Sensographic's products and services please contact us at:
Sensographic Systems, LLC
1687 Donewal Drive
Lexington, KY 40511

E-Mail: info@sensographics.com

Phone: 859.913.8284
Fax: 859.258.9960


Thank you for visiting our site. Please bookmark this page and come back soon!
© Copyright 2000 Sensographic Systems, LLC Lexington, Kentucky, U.S.A.
Sensographics, Sensographic Systems, and Fascination Station are trademarks of Sensographic Systems, LLC.
Fascination Station Patent Pending.
Site design and hosting by ATC Nethosting
All rights reserved.